SPECIAL INDIVIDUAL PIECES
Don't we all feel a little bit like Bukowski?
Who doesn't long for the freedom to create their life with complete joy, fulfillment and according to their own ideas and needs?  
Der Blaue Vogel is a small step in this direction. A place of creativity and inspiration. It is my wish to support others to let their personal "blue bird" fly.
To assist in clearing your mind and opening your heart, manual activities are extremely helpful. 
Currently, workshops and classes are mainly held in Klagenfurt/Austria, but behind the scenes is a big version of Der Blaue Vogel is building momentum. Curious? Then just look here from time to time or follow me on Instagram at @Der.Blaue.Vogel
In my shop, you will also find my handmade wooden beading boards and hand-knotted yoga malas.
Thanks for stopping by! Love, Claudia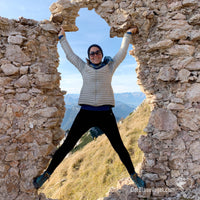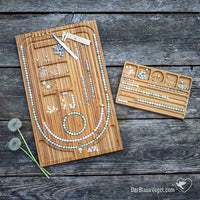 Handmade Wooden Beading Boards
I have always been frustrated by the grey beading boards made of plastic. They are light and cheap, unstable, attract lint and are far from attractive. For designing and knotting individual yoga malas (for the Japa meditation), they are mostly too small, with 108 bead necklaces often reaching a length of 100 cm or more. The process of sitting in front of such a jewelry board for several hours is very sensual and meditative. By contrast, the haptic sense of a flocked piece of plastic disturbs this process.
In the end, the development of my own small "collection" of wood beading and bracelet boards was the logical outcome. All my beading boards are durable, dimensionally stable and pleasant to touch. The surface is treated with biological, cold-pressed linseed oil and can be wiped off at any time and re-oiled if necessary. Most importantly, they are especially beautiful in photos, so these wooden beading boards can be proudly displayed.  
View All
Handknotted NatureLove Malas
My hand-knotted yoga mala meditation necklaces are made of semi-precious stones, precious gemstones and natural stones. All malas are personally hand-knotted and made with love and care. Each piece is unique, or part of a limited edition with a maximum of ten pieces (marked in their description). 
The special thing about the "NatureLove Mala" collection is their guru bead. This is uniquely handcrafted in cooperation with international artists. By using a one-time organic casting technique, the object within the mould is replaced by bronze or silver directly during the casting process. The original is, so to speak, still present within the bronze or silver, by being energetically conserved.
For the smaller series, reusable casts are used, however, those pieces only exist in small numbers after being handcrafted by international artisans.  
View All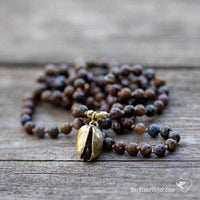 This Mala board is absolutely lovely & amazing quality. It easily fits 108 beads with room to spare. I have been looking everywhere for a board like this and was so thankful to finally find this shop. I live in the USA and this item shipped from Austria - it arrived quickly and was packaged very well for the long journey. I know I will use this board for many years to come. This board is sturdy, easy to clean and has many compartments for bead storage and design. A wonderful upgrade from my previous felt boards.

Hilary from @heyplantladystudio
I have bought other wood bead boards from other shops before but this one is BY FAR the highest quality that I own!!! The bead wells are literally perfect, even, and sanded so that there are not any jagged edges. So worth the shipping from across the world. Look no further this board is amazing. You can easily fit 30 8mm beads on every line and 20 bracelets or pocket Malas. This is exactly what I was looking for! THANK YOU!

Ashley from @TheGroveApothica
Claudia's beading boards are beautiful and a pleasure to work on. I ordered the bundle and I am often caught just staring at them (it was love at first sight!). They are just as gorgeous as the photos. Very high quality product - you can tell they have been designed by a beader. Really well thoughout. Fast turnaround on my order and great communications on order status from Claudia too. Highly recommended!

Conny
Wonderful!!! Very nicely worked and great service! There is already from the first laid bead for the mala pure joy with it... Thanks!

Bee
The wooden mala Bead Board & wooden Bracelet Bead board are both beautifully made & very functional. They will be such an asset to me whenever I bead. So happy To add them to my tools!

Iris
So happy with this mala board! The quality is superb and it is stunningly beautiful. It's obvious how much thought went into the design process and also into the making of the board. I am already loving working it. My only regret is not buying the combo, so if you're on the fence, do it! This board will last a lifetime. Worth every penny for this master craftsmanship.

Anne Auten
Absolutely love these boards! I've been wanting wooden bead boards and I'm so happy I decided to take the plunge and get these. They're so well made and just beautiful. Shipping did take a long time from Germany to the US (Washington) but the seller was quick to respond to any questions I had and did everything they could to make sure they got to me as soon as possible.

Vanessa Vernaza
Wunderschön, tolle Steine. Die Mala lässt mich strahlen... ich bin dankbar.

Herzliche Grüße und beste Wünsche für das schöne "Geschenk"

Chris
Superbe collier de Larimar, il risque d'être mon préféré pendant longtemps. Tout est parfait depuis la vendeuse, son site et ses articles. Je reviendrais à coup sure acheté vos fabuleux trésors. Je vous dit à très bientôt et encore merci pour ce précieux mala.
Thank you!

Estelle